Utah LGBTQ+ Economic Summit
Join us as we bring together LGBTQ+ and allied business owners throughout Utah at our 4th Annual LGBTQ+ Economic Summit. The day will feature education, inspiration and business development opportunities.  Oh and, we will feed you coffee in the AM, lunch in the afternoon, and lovely happy-hour open bar and nibbles.  Whether you are an aspiring business owner, new business owner, or have been in business 50+ years, there will be a nugget or two for you!
See More & Register to attend or sponsor Lead Out Proud!
Chamber Gold, Sapphire & Ruby members will receive complimentary registration for 2 if registered before September 10.  Contact liz.pitts@utahlgbtqchamber.org for your COMP code.
Summit Sponsors will receive: Registration for 2  |  Chamber social media, website, and event recognition  |  An exhibit table
And all attendees will receive professional headshots from Dee & Cory Productions!
2022 - The 4th Annual Utah LGBTQ+ Economic Summit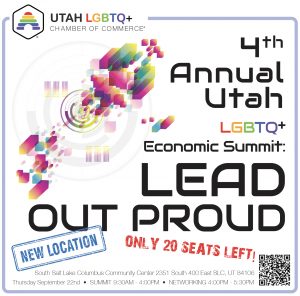 Mental Health and Suicide Prevention in the Workplace, Amy Mikkelsen MPH, CHES she|her, Utah Department of Health & Human Services
Cybersecurity preparedness for Small Businesses, Doug Burton he|him, Saltworks & Ben Clapp he|him, Wasatch IT
Keynote: State of the Union, Justin Nelson he|him, National LGBT Chamber of Commerce (NGLCC) President
SafeZone Utah: Antibullying & Allyship, Jess Burns, she|they & Nick Arteaga, he|they
Transitioning at Work Panel, Moderator: Samantha Taylor, Utah LGBTQ+ Chamber of Commerce Board Chairwoman, she|her
Get Up and Move!  Tracey Dean, she|her, Tracey Dean Financial
Complimentary Professional Headshots by Dee & Cory Productions!