Welcome to the Utah LGBTQ+ Chamber of Commerce
The Utah LGBTQ+ Chamber of Commerce is open to corporations of all sizes, sole proprietors and independent agents regardless of sexual orientation, gender identity, or gender expression. This is a great place to meet other professionals, make business contacts, promote your business and work for the enhancement of Utah's economy and LGBTQ+ community.
    Theatrestorm hit it on the head when they said that the Kinsey Sicks "...arrangement and performance... could not be improved upon by members of the Mormon Tabernacle Choir.
     Find out for yourself when America's Favorite Dragapella Beautyshop Quartet, The Kinsey Sicks, return to Salt Lake City on Sunday, December 3, 2023, with Drag Queen Storytime Gone Wild! at the Rose Wagner Theater to benefit SafeZone Utah and the Utah LGBTQ+ Chamber of Commerce. This show is for mature audiences only—that's 18+ if you are math-challenged.
Sponsorships and Tickets for Sunday, December 3, 2023 are available now!
Our monthly 3rd Thursday breakfasts are not your typical kind of networking....we are talking a really good time, all before most peeps are starting their day. Join us for an opportunity to promote your business and connect with colleagues.  You are bound to find a new friend/client/customer to help grow your business!  breakfast, as you might have guessed, are held the Third Thursday of each month (with the exception of December).  Each breakfast features Chamber member presentations and an opportunity to introduce yourself and your business to a packed room of attendees.
November 16th we will be hosting TWO special guests:
Jacey Thornton, Project Rainbow Utah Executive Director will talk with us about Trans Week of Visibility and how we can all get involved.
Leah Labato, Director of the Governor's Committee on Employment of People with Disabilities and Business Relations with the Utah State Office of Rehabilitation will present on topics of acessibility & inclusion of people with disabilities in our businesses.
These events are open to Chamber members & prospective members alike but seating is limited and we don't want to run out of coffee so, please register below!
Register now for November 16, 2023 8am-9.30am
Join The Utah LGBTQ+ Chamber of Commerce and your community of queer and allied business owners, prospective business owners and entrepreneurs at Pitch Your Business for Success!  You are invited to attend this hands-on workshop designed to help you perfect your business pitch!  We'll also discuss how LGBTQ business owners can apply to be LGBTBE certified for free (through the National LGBT Chamber of Commerce - NGLCC) after attending this workshop.   All workshop participants will be given a $25 visa gift card for attending and the top "pitchers" will be awarded an additional $50. This workshop is made possible through the generous support of Wells Fargo. ~Continental breakfast will be provided~ ~All are welcome but seating is limited so pre-registration is required~
Register Now for November 16th @ 9.30am
With the intent of driving LGBTQ+ tourism revenue and promoting local queer and allied businesses, the Utah LGBTQ+ Chamber is pleased to announce plans to open an LGBTQ+ Visitors Center in downtown Salt Lake City by May of 2026.
Modeled on the thriving San Diego LGBTQ+ Visitors Center, the Salt Lake City Center will be developed to engage LGBTQ+ visitors with local businesses and events, and to provide resources to newly relocated LGBTQ+ individuals and those wishing to start or expand their businesses in Utah.  The Visitors Center will also host local queer arts, culture and history installations: Chamber and SafeZone Utah events: and provide affordable retail space for Utah-local artists and makers.
As LGBTQ+ travel dollars account for 7%-10% of all U.S. tourism revenue, the Chamber is embarking on this project to connect LGBTQ+ travelers to all that our state and community have to offer and in turn strengthen our local economy.
Chamber leaders along with a community-based advisory committee will study the feasibility of the project and timeline throughout the first half of 2024.  Fundraising and planning will extend through 2025 year-end with the goal of opening the visitors center in May of 2026.
Those wishing to join the Chamber's LGBTQ+ tourism committee are encouraged to complete this LGBTQ+ Tourism Committee Interest Form by November 31, 2023.
Whether you are new to the Chamber or want to learn more about how to get the most out of your membership, join the Utah LGBTQ+ Chamber of Commerce for some tasty tidbits at our Taste of Success-Best Damn Bi-Monthly Lunch and Learn.
In this session, we'll show you how to:
-        Make your Member Directory listing most engaging and impactful
-        Post jobs to our Job Board
-        Advertise your Events on our Community Calendar
-        Get FREE BOOKKEEPING triage services for your small business
-        Connect with other Chamber Members on social media & in person
-        Take full advantage of all of your member benefits!
This virtual event is open to Chamber members and prospective members alike.  Registration required.
Registration information for January 2024 comming soon!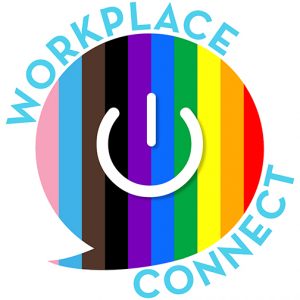 Workplace Connect ERG & DEI Roundtable
Join The Utah LGBTQ+ Chamber of Commerce and  your peers throughout the state for The Workplace Connect Roundtable.  From hiring & retention, to benefits administration, to employee engagement, learn from peers and colleagues how each of you can influence day-to-day processes at your company to effectively weave inclusive behaviors and a sense of belonging within, and, in turn track and show the business case for your work.
Our next Workplace Connect activity will be December community giveback events with the VOA Homeless Youth Resource Center.   For more information, please contact liz.pitts@utahlgbtqchamber.org. 
Workplace Connect is a roundtable, working group developed exclusively for larger companies, their LGBTQ+ employee resource group (ERG) leads and those who lead their companies' diversity, equity & inclusion initiatives.  The Workplace Connect group meets quarterly to discuss topics of importance to LGBTQ+ employees and business leaders and to participate in community service projects.
Please Note: Currently, Workplace Connect is open to Chamber members and prospective members alike.  In 2023, Workplace Connect participation will  be reserved for Utah LGBTQ+ Chamber Members.
Thank you to all of our amazing sponsors, exhibitors, presenters & attendees of Lead OUT Proud 2023!
If you missed the live event or would like to review any of the Summit presentations, video recordings of the Summit are now available on The Utah LGBTQ+ Chamber of Commerce YouTube Channel.
Entrepreneurs: Are you working IN your business or ON your business? Step away from the shop/office and join us as we delve into different facets of business and discovery at the Utah LGBTQ+ Chamber's 5th Annual Economic Summit "Lead OUT Proud." This is a Summit of epic proportions, where we bring together powerful speakers and community members to educate and vitalize Utah's LGBTQ+ and allied business owners to help your businesses THRIVE. If you are an aspiring, new, or veteran business owner, we promise there will be a nugget or two to help in your business!
In-person registration includes this full day of critical and inspirational conversation, morning coffee, lunch, complimentary professional headshots from Dee & Cory Productions, and early evening networking and nibbles.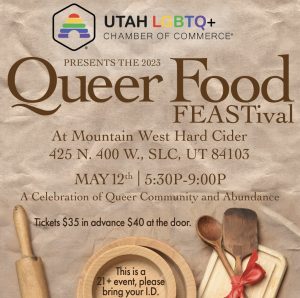 PAST EVENT: Queer Food FEASTival 2023!
Thanks y'all for the food, the fun and for bringing your fabulous selves out to the FEASTival!
Thank You to all of the businesses who provided the FEAST!
Mountain West Hard Cider, Laziz Kitchen, Sugarhouse Coffee, Sweet Hazel & Co., Kahve Café, San Diablo Churros, WB's Eatery, Magleby's Catering, Suck It Up, Buttercup!, Fry Me to the Moon, Ken Garff Scholarship Club, Beehive Cheese, Fillings & Emulsions,  Rawtopia, Coffee Garden, Red Lobster Sugarhouse, Banbury Cross Donuts, La Lupe Taco Truck, Xaio Bao Bao, RedRock Brewery & Ogden's Own Distillery
Thank You for the fun!
Rocky Mountain Photo Booth, DJ Suzy & Locally Twisted Balloons!
And a special Thank You to our Host & Sponsors!   Mountain West Hard Cider, Project Rainbow Utah, Ogden's Own Distillery, JC Pro Design, The Salt Lake City ACE Fund, Dee & Cory Productions, RedRock Brewery, Rocky Mountain Photo Booth, SLUG Mag & Q Salt Lake!
How about we do it again next year? Save the date - May 10, 2024!
Why Should I Join the Chamber?
That answer depends on you, however, we recommend that you join the Utah LGBTQ+ Chamber of Commerce if you are an LGBTQ+ business, organization, ally, or individual in Utah and you would like to meet other like minded business owners, expand and grow your business, and have a good time while doing it! Your Chamber membership will provide you the following opportunities:
exposure with free advertising through our website, social media sites, and statewide Pride events
multiple monthly opportunities to network with other local like minded business people
access to business resources, peer support and mentoring through our member-only social media forums
take advantage of member-to-member discounts - or post your own for extended exposure
save on recruitment costs and find more qualified candidates by posting your job opportunities on our free job board
expand your knowledge by attending our educational events
demonstrate your support of LGBTQ+ community members as a judgement free business and participate in opportunities to give back
meet your local government officials
Member of the National LGBT (NGLCC) Chamber of Commerce through
If your business meets eligibility requirements, your membership with the Utah LGBTQ+ Chamber provides waived LGBTBE certification application and renewal fees.